26 February 2016 Year

Iranian Consul General at BASU
Consul General of Iran visited the Batumi Art State University. The university will host the concert by Iranian musicians in March. The consul met the rector of BASU and they spoke about further cooperation with Iran, creating joint exchange programs and planning joint activities. The Batumi Art State University has been cooperating with Iran for two years and various activities have been implemented within the frames of this cooperation.
25 February 2016 Year

Certificates
Students of the specialty of architecture and construction, who worked actively on the architectural drawings of the new campus, were given certificates. Those students are: Lia Gelovani, Natia Chitadze, Nana Kipshidze, Tea Putkaradze, Jimsher Jikhvadze, Elina Tsiteladze, Lasha Samsonia and their teachers – Giorgi Ramishvili and Marta Chikashua.
25 February 2016 Year

Certificates of Honor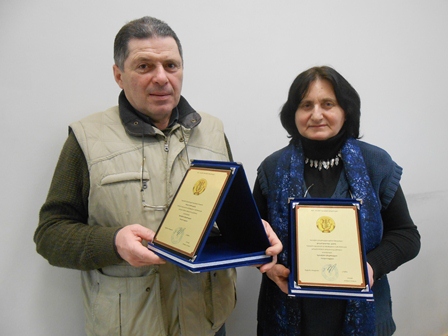 Associate professor Mikheil Kvachadze and senior teacher Ketevan Pilipova-Kvachadze of BASU were awarded the certificates of Honor for their fruitful pedagogical activities. We congratulate to Mrs. Ketevan and Mr. Mikheil their 60th anniversary and wish for future success.
25 February 2016 Year

Exhibition at Zugdidi Art Gallery
On February, 24, Zugdidi Art Gallery hosted the exhibition of works of students and painters of Batumi N. Kandelaki Art School and Ajara Artists' Union. Professors of BASU - Ketevan Pilipova, Mikheil Kvachadze, Beka Bolkvadze, Ketevan Vacheishvili, Maia Gersamia, Nodar Kvirkvelia and Gela Gorgiladze have also taken part in this exhibition.
19 February 2016 Year

Diploma Work Presentation
A 2nd year students of theatre and cinema actor specialty gave a diploma work presentation. The head of the group is Professor Vladimer Bibileishvili, Assistant teacher Nino Davitashvili. Students, academic staff and invited guests attended the presentation.
17 February 2016 Year

Meeting with Students
Cultural Affairs Officer at U.S. Embassy, Damian Wampler met with the rector and students of the Batumi Art State University. He spoke about exchange programs and responded to students' questions.
12 February 2016 Year

Public Lecture by Tamar Amashukeli
"Problems in Cultural Heritage Management", a public lecture by art critic Tamar Amashukeli was held at Batumi Art State University. She discussed existing problems in Georgia on the examples of different countries.
01 February 2016 Year

Premiere
A New Stage of Batumi Drama Theatre presented the play "Witches' Diaries" on January 31st. This is the first premiere this year and professional actors together with 4th year students of Batumi Art State University participated in the play (the head of the group and director-associate professor A. Enukidze). The premiere was attended by the chairman of the Supreme Council of Ajara, A. Beridze and the other officials as well.